Why Director Parker Finn Didn't Dig Into the Entity's Past in Smile
"Smile" debuted at the end of September 2022, at the height of the spooky season. Parker Finn's film begins with Rose Cotter (Sosie Bacon) sitting with a patient, Laura (Caitlin Stasey), who is plagued by an unseen entity that Rose believes is a hallucination. Rose is forced to watch Laura brutally commit suicide.
READ MORE:-How Much James Woods Earned In His Entire Movie Career?
Rose understands how the human mind works and how it can fail. She claims that there was something strange about her sudden erratic behavior that seemed to go beyond a mental health lapse.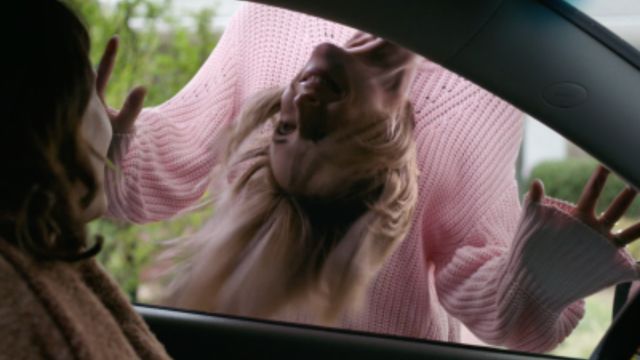 She starts seeing eerie smiles everywhere after her encounter. Rose finds it difficult to ignore the unsettling feeling that lingers whenever she sees someone smiling at her in that off-putting way, much like Laura described in the days leading up to her death. Rose sees this entity manifesting in her life more and more as the film progresses.
It gets to the point where she can't tell what's real from what's not. From the outside, she appears to be having a mental breakdown as a result of witnessing her patient's death. Nobody believes her about the entity they cannot see.
We get to see the entity as Rose does, but we don't know anything more than she does, creating an air of ambiguity.
Is the entity even real, or are we being duped into thinking it is? Is there anything in its past that could explain its malevolent nature?
That was something Finn purposefully avoided while working on the film.
Why 'smile' Director Parker Finn Didn't Want to Bog the Horror Film Down in Mythology
The new horror film from Paramount Pictures is about a young doctor (Sosie Bacon) who discovers a vast and bizarre mystery involving a demonic curse after a patient commits suicide in front of her.
READ MORE:-Best DosMovies Alternatives Websites to Watch Movies and TV Shows Online
It's a fantastic little horror film, full of truly frightening moments and unforgettable images. If you go to the movies this weekend, you will almost certainly be surrounded by screaming fans (yourself probably included).
The world premiere of "Smile" took place at Fantastic Fest, an international film festival in Austin, Texas, known for its dedication to cutting-edge genre cinema. The morning after the premiere, TheWrap spoke with writer/director Parker Finn. "I can't think of a better place to make my debut than Fantastic Fest," Parker said.
"I can feel everyone clenching at the same time, squirming in their seats, screaming, and laughing because they're so nervous." It was amazing just to see the molecules in the air. It was the first time I saw the finished film in front of an audience, and it was incredible."
Finn spoke with TheWrap about the process of adapting his own short film for the big screen, his inspiration for the story, and why smiles are so creepy.
READ MORE:-Themoviesflix Android Apk V1.57 Download Themoviesflix Apk Newest V1.57 for Android