Are Raven and Sk From 'love is Blind' Still Together Now?
One of the cast members who gets engaged in the third season of Love Is Blind has a more slow-burn relationship.
Though she has an early crush on Bartise Bowden, Raven Ross, 29, eventually falls in love with and marries Sikiru "SK" Alagbada, with SK proposing at the end of the second episode.
READ MORE:-Shakira Speaks Up About Rumors That She is Dating a Surfing Instructor
"I really want to thank you for letting me love you the Raven way," SK says before taking a deep breath and proposing. Raven pauses for a moment to consider it, pacing around the pod and turning to face the wall before returning to SK and responding, "Yes, sir! Yes, I will."
"It's more than incredible… Something is about to happen, "Raven then addresses the camera. "It could be love, but it could also be vomit. That's my name. But I'm also ecstatic."
Despite this, the couple's relationship remained awkward for the majority of the season's first four episodes, which is understandable given that they had just met and were engaged.
The couple traveled to Malibu with the rest of the engaging cast to spend time together, where Raven stated in an on-camera interview that she was having difficulty connecting the SK she knew in the pods with the SK she knew in person. "I'm definitely struggling with connecting the two," she admitted, before asking, "Does he still like me as he did in the pods?"
Do Love Is Blind's Raven Ross and SK Alagbada Get Married?
Raven showed an interest in both SK and Bartise in the first few episodes of Season 3. Raven spent more time with SK after Bartise ended his relationship with Raven in order to pursue Nancy Rodriguez.
READ MORE:-Who is Klay Thompson Dating? When Did Klay and Carleen Henry Broke Up?
By the time the former data engineer proposed to the pilates instructor, she had already said "Yes sir!" However, their relationship did not develop naturally.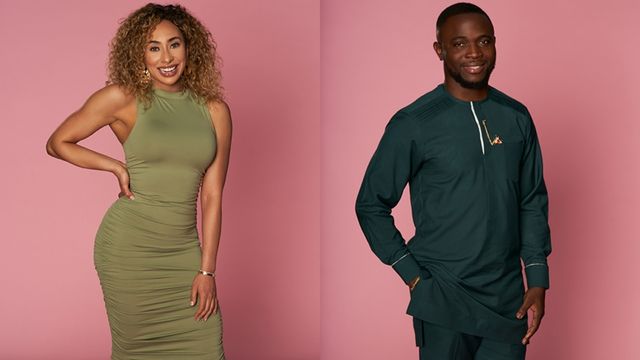 When Raven and SK arrived at the altar to exchange vows, fans were taken aback when he declined.
"I don't," he told Raven as tears streamed down her cheeks. "Raven and I both know how we feel about each other today. I adore you. However, we are dealing with a very unique and complicated set of circumstances. I don't think now is the best time for us to do this.
"
SK explained his decision to the cameras during a confessional after Raven hugged him and walked off the altar.
"I have no doubt. "I adore Raven," he was adamant. "I know she's probably upset and angry, but I'd feel really bad and really guilty if I stayed in a marriage with her when I know there are so many other unanswered questions."
'love is Blind' Stars Raven and Sk Confirm Split Amid Cheating Allegations
Raven Ross has ended her relationship with Sikiru "SK" Alagbada after multiple women accused him of cheating.
On Sunday, the "Love Is Blind" stars confirmed their split in a joint statement shared on their respective Instagram Stories.
READ MORE:-Is Oliver Tree Dating Belle Delphine: What Is Making Fans Go Crazy, Don't Forget To Check?
"We are saddened to announce that we have decided to part ways," the ex-couple explained.
"Due to ongoing legal proceedings surrounding these allegations, we are unable to provide additional details and ask that you please respect our privacy during this difficult time."
They ended their statement by thanking fans for following their love story and "believing" in the partnership they formed in the pods.
"This journey has forever shaped our lives, and we are eternally grateful to everyone who has been a part of it," they wrote. "Your love and support mean the world to me.
"
SK and Ross met in Season 3 of the popular Netflix show. They were cast in the pods blindfolded and quickly became fan favorites.