The Boys is an American superhero television series created by Eric Kripke for Amazon Prime Video.
Based on the comic book of the same name by Garth Ennis and Darick Robertson, it follows the eponymous vigilante team as they battle superpowered individuals who abuse their abilities.
READ MORE:-Fiery Priest Season 2C: Everything You Need to Know About This Series!
Karl Urban, Jack Quaid, Antony Starr, Erin Moriarty, Dominique McElligott, Jessie T. Usher, Chace Crawford, Laz Alonso, Tomer Capone, Karen Fukuhara, and Nathan Mitchell star in the show.
The Boys Season 4 Release Date
There is no set release date for The Boys season 4.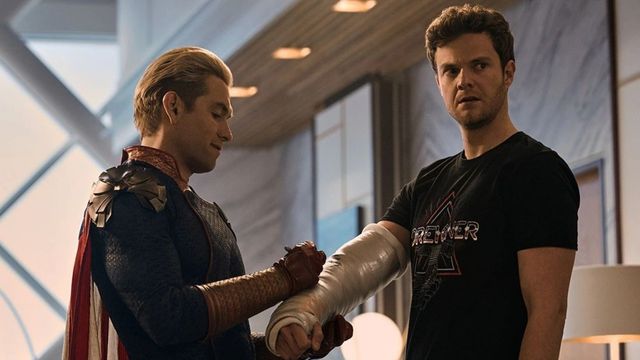 Only in June 2022 was the show recommissioned, with the season 3 finale airing on July 8, 2022.
We may have to wait a little longer for new episodes.
The Boys Season 4 Plot
No plot details for The Boys season 4 have been confirmed, but the season 3 finale gives us a pretty good idea of what will happen next.
The Boys are back together and more determined than ever to bring down the Supes. However, it appears that their main adversary has shifted to Victoria Neuman. She landed the Vice President ticket in the season finale thanks to The Deep drowning out her opponent after striking a deal with Homelander. This puts her in line to become the most powerful Super in history, at least in terms of politics.
But, thanks to Starlight, they'll have some assistance this time. After attempting to change things from the inside, she is now firmly on team Butcher as a full-fledged member of the team. And he might need all the help he can get after being left to deal with the aftermath of Temp V. Billy will be in serious danger in the new season because he has been told he is on borrowed time due to the effects of the drug on his body.
READ MORE:-Monarch Season 2: When Will Fox's Musical Drama TV Series Will Premiere?
The Boys Season 4 Cast
Season 3 of The Boys saw a high death toll, with every member of Payback (Soldier Boy's old team) being killed, Stormfront (Aya Cash) committing suicide, Blue Hawk (Nick Wechsler) being killed by A-Train, and Homelander killing both Supersonic (Gaston Villanueva) and Noir (Nathan Mitchell). Forget about the massacre at Herogasm.
While Soldier Boy (Jensen Ackles) survived the season, he was returned to the ice after being deemed too dangerous to be let loose — whether he stays that way is another question. Maeve is in the same boat (Dominique McElligott). She may have dropped out of the show due to her hiding, but will she remain so? Aside from that, all of the major players are expected to return.
Here is the List of the Boys Season 4 Cast:
Antony Starr as Homelander
Jack Quaid as Hughie Cambell
Karl Urban as Billy Butcher
Erin Moriarty as Annie/Starlight
Jessie T Usher as A-Train
Chace Crawford as The Deep
Karen Fukuhara as Kimiko
Laz Alonso as Mother's Milk
Claudia Doumit as Victoria Neuman
Tomer Kapon as Frenchie
Colby Minifie as Ashley
Cameron Crovetti as Ryan
All three seasons of The Boys are now available to watch on Amazon Prime Video. If you want to learn more about some great TV shows, we have guides to the House of the Dragon season 2 release date and a guide to Severance season 2.
What New Characters Will Join the Boys in Season 4?
Two previously unseen sure costumes have been revealed. Firecracker is a redhead dressed in red, white, and blue with a firearm holstered to her hip. Because of The Boys' previous portrayal of American nationalism, her colors may allude to dubious morals and a possible alliance with Homelander.
Firecracker's abilities are unknown at the moment, but her name alludes to pyrokinesis in the vein of The Fantastic Four's Human Torch, or even the use of flamethrowers like DC's Firefly. Her red hair, skintight suit, and weapon are also reminiscent of Scarlett Johansson's MCU character Black Widow.
With the exception of Soldier Boy and Gunpowder, Supes in The Boys rarely used weapons, so the inclusion of her firearm in the promo photos begs many questions about Firecracker's role at Vought. Valorie Curry will portray Firecracker.
Curry previously appeared in The Twilight Saga as Charlotte, a nomadic vampire who was changed by the same vampire as Jasper Cullen, and in Amazon's live-action adaptation of The Tick as Dot Everest, the sister of The Tick's sidekick, Arthur.
READ MORE:-The Last Of Us release date: Everything that we have learned about the HBO series up to this point
Outer Banks Season 3 Trailer
Tudum: A Netflix Global Fan Event provided us with a first-look teaser for Season 3. Despite being stranded on an island, everything starts off well for the Pogues.
It's all coconuts and puka shells until we see the car chases, hand-to-hand combat, and imminent danger that awaits the OBX friends in Season 3.