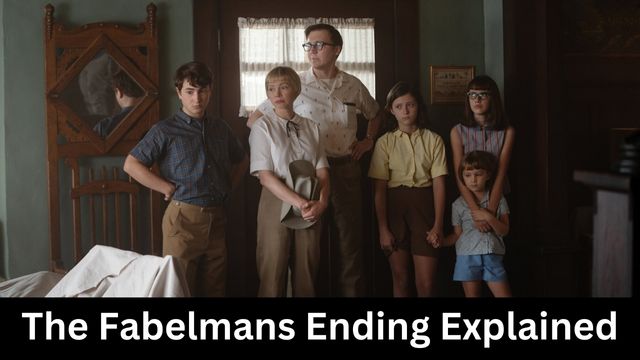 The Fabelmans is a 2022 American coming-of-age drama film directed by Steven Spielberg and written and produced by Tony Kushner and Spielberg.
It is a semi-autobiographical story loosely based on Spielberg's adolescence and early years as a filmmaker told through an original story of the fictional Sammy Fabelman, a young aspiring filmmaker who explores how the power of films can help him see the truth about his dysfunctional family and those around him.
READ MORE:-Four to Dinner' Ending Explained: Here Are All Details About the Movie To Know!
The Fabelmans (2022) Movie, Ending Explained
Mitzi and Sammy talk about their future after the prom, and she advises him not to give up his passion for filmmaking.
One year later, after moving to Hollywood, he becomes restless because he despises school, and even when he considers working in Hollywood, he receives little response despite his enormous passion. As a result, he considers dropping out of college. Burt, who was not optimistic about his son's pursuit, notices him having panic attacks.
Burt sees the photos Mitzi sent him of her new life with Benny during this visit to Sammy's apartment. He becomes emotional as a result of this and then agrees to his wish while not being as harsh on him as he had previously been.
He then shares a letter from CBS, in which he is offered a role on the sitcom Hogan's Heroes. When the network executive notices his keen interest in filmmaking, he invites him to meet legendary film director John Ford, who is one of his personal heroes and influences in the industry.
Sammy goes to meet the revered director and is humbled by his stern demeanor. This is the same person who is known for saying a simple line – 'My name is John Ford; I make westerns' – with conviction and clarity about his own work.
READ MORE:-How to Watch Will Smith's New Movie Emancipation Online at Home!
John teaches him a valuable lesson about framing, specifically where the horizon should be in a frame (not in the middle, but either on the top or the bottom).
His advice basically follows the learning in framing techniques, which states that the way you place your subject in a frame in relation to their background determines the overall impact.
While this is now considered a rule in and of itself, Ford's suggestion is very straightforward and thus elaborative of his persona. 'That's how you make your work look interesting,' he says. One of the many lessons Sammy will learn throughout his career, and the one that will most likely have the greatest impact is to get the basics right.
From behind the camera, Speilberg plays a trick on the same advice in the very next scene, in which Sammy leaps out of the studio, ecstatic about his future. While the horizon is initially placed in the center, it shifts to the direction desired by Ford, perhaps indicating how much he still revers this old master of his.
'The Fabelmans' Review: Spielberg's Heartfelt Biopic About Movie History's Biggest Divorce
Is there a divorce that has had a greater impact on the American imagination than the one between Steven Spielberg's parents? It was the breakup that sparked a million blockbusters. That turned father issues into their own show.
That led directly to "E.T.," "Catch Me if You Can," and the final scene of "Close Encounters of the Third Kind," while also paving the way for a slew of iconic films about the nuclear family's breakdown — which any multiplex will tell you was the twentieth century's defining crisis for the middle class.
READ MORE:-Livio- Inspiring Alternative Movie Posters by Livio Bernardo on Behance.
So it stands to reason that "The Fabelmans," in which Spielberg confronts his parents' divorce head-on — and in exacting autobiographical detail, every shot a memory — would feel as much like our story as it does his own.
I'd say this playful yet nakedly personal coming-of-age epic was attempting to bridge the gap between memoir and crowdpleaser, but it appears even more determined to do so: What else would Steven Spielberg's ultimate divorce film be about if not the possibility of reconciliation?