F Is for Family is an American adult animated comedy-drama streaming television series created by Bill Burr and Michael Price for Netflix.
It is produced by Vince Vaughn's Wild West Television, King of France Productions, Loner Productions, Gaumont International Television, and Gaumont Animation.
READ MORE:-Clickbait Ending Explained: Here are All the Details About the Series!
Between October 1973 and December 1974, the series follows a dysfunctional suburban Irish-American family in the fictional town of Rustvale, Pennsylvania.
'F is for Family' Ending Explained: Say Goodbye to the Murphys
F is For Family, a Netflix Original that premiered in 2015, told the story of the Murphy family growing up in Pennsylvania in the 1970s. It has now released its fifth and final season for all to view in 2021.
Viewers have seen a lot from each family member, from the father, Frank (voiced by Bill Burr), struggling with his job and home life, to his wife, Sue (Laura Dern), attempting to be more independent and supportive, to each of the three (eventually four) children growing up in their own ways.
The final season is no exception, with the focus shifting to Frank as he struggles to accept and move on from the death of his abusive father.
With only eight episodes as opposed to the series' usual ten, this season appears to be more conclusive.
Love @WacoOGuin WHOS READY FOR MORE @Paradise_Farzar https://t.co/9dxy7saz3r

— F is for Family (@iFisforFamily) December 3, 2022
 Normally, the final two episodes would begin to sow the seeds for the season that follows, and the absence of those final two episodes gives viewers a better sense that this truly is the end of the series.
The season begins with the funeral of Frank's father, a character who appeared frequently in the fourth season.
Just as the previous season's finale showed the two about to reconnect, "Big Bill" Murphy passes away, leaving Frank with his last words; "Box 16".
READ MORE:-Cheer Ending Explained: Can You Watch This Series Premiere for Free?
Frank spends the majority of the season trying to realize what his father meant by that, and he ultimately finds out that what his father actually said was most likely "Bach 16".
F is for Family Season 5 Review: What Are Fans Talking About After Watching It?
The adult animated sitcom "F is for Family" is produced in the United States. Bill Burr and Michael Price created the animated series.
There are currently five seasons available for the series.
The series' plot revolves around the lives of a dysfunctional suburban family. Season 1 of F is for Family and premiered on December 18, 2015.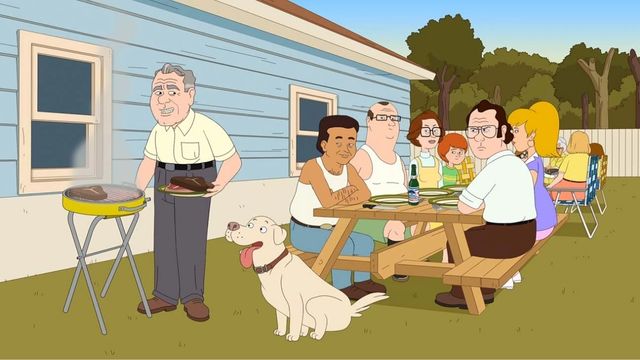 Season 5 of the series was recently released on Netflix on November 25, 2021.
The animated series has an incredible cast of celebrities who had to lend their voices to the series. Bill Burr (Frank X. Murphy), Laura Dern (Susan Murphy), Justin Long (Kevin Murphy), Haley Reinhart (William Murphy), Debi Derryberry (Maureen Murphy), and Sam Rockwell are among those on the list (Vic Reynolds).
READ MORE:-Cowboy Bebop Ending Explained: What happens to Faye at the end of this Series?
F is for Family Trailer