Snowpiercer Season 4 Release Date: The TV show based on the movie by Bong Joon-ho is still going strong, but its fourth and last season is coming up. It's not surprising that there was a Snowpiercer series after the first thriller movie did so well.
All of the best parts of the Korean movie director's movie are in the TV show, like the super-fast train that moves people around a dystopian wasteland. But, no Chris Evans, which is a shame.
Now that the last episode of the thriller series is coming up, we'll tell you everything you need to know about the Snowpiercer season 4 release date.
Snowpiercer Season 4 Release Date!
As of March 2023, no one knows when Snowpiercer season 4 will come out. There have been some problems with the show's distribution, which has made it take longer to air.
TNT was the first network to show Snowpiercer, but the network is now moving away from scripted shows and won't be in charge of the show's fourth and final season.
The last season has been made, is ready to go, and will be shown on Netflix at some point in the future. But we don't know exactly when that will happen.
The missile seen at the end of season 3 is likely to be a big part of the plot for season 4. We don't know who sent the missile, where it's going, or why it's there, but we're pretty sure we're about to find out.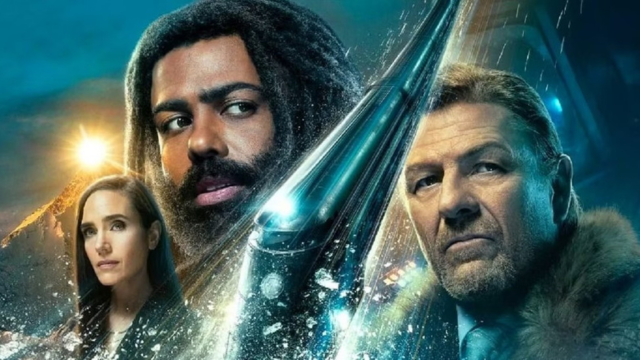 We also saw the train break up into different groups with their own cars in Season 3. We think that season 4 will show us how Melanie, Andre, and Layton's groups do on these new paths.
Jennifer Connelly and Daveed Diggs will return as the show's main characters in season 4. Alison Wright, Rowan Blanchard, Iddo Goldberg, Lena Hall, Mickey Sumner, Sam Otto, Sheila Vand, Mike O'Malley, Roberto Urbina, and Jaylin Fletcher are also likely to come back.
One important character died in the season 3 finale, so Annalise Basso will not be back as LJ Folger. At this point, it's also not clear if Sean Bean will play Joseph Wilford again.
Read More: Boruto Announces "Shippuden" Style Part 2 – A New Era of Ninja Adventure Begins!
We do know that there will be two new faces. Clark Gregg, who played Phil Coulson in the MCU, and Michael Aronov are both on board. We don't know what their roles are yet.
The CEO and partner of Tomorrow Studios, Marty Adelstein, and the president and partner of Tomorrow Studios, Becky Clements, said, "We love 'Snowpiercer,' and we think season four completes a story with amazing talent that will entertain viewers while it looks at climate change and class warfare."
To read more future updates related to Snowpiercer, stay tuned with Crossover99.
Must Read: Campfire Cooking in Another World Season 2 Release Date Announced? Get Ready to Sizzle!