The prequel series "Queen Charlotte: A Bridgerton Story" on Netflix looks at the early years of the rule of Queen Charlotte and King George. Charlotte, who is 17, marries George, whom she only meets quickly before the wedding. This is where the story starts.
She doesn't know anything about him, and the only thing she hears about him is that he is a king. Charlotte had already wondered why George picked her to be his wife and the Queen of England.
But she starts to worry more when sweet and polite George acts like a slacker on their wedding night. He doesn't want to live in the same house as Charlotte, and he doesn't even try to make love to her. Could this be because of the king's sexual preferences? Let's find out.
Is King George Gay in Bridgerton?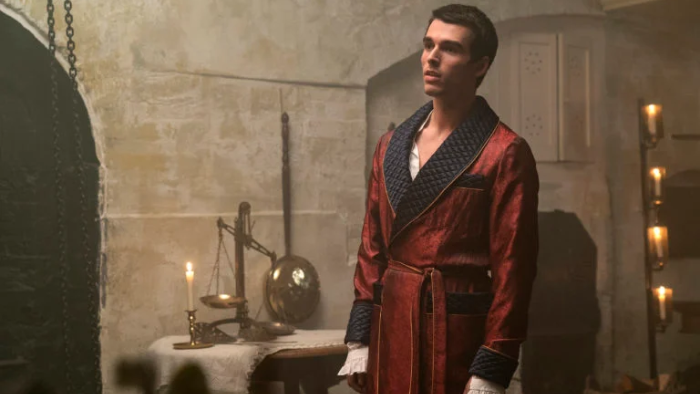 No, King George is not gay in 'Queen Charlotte: A Bridgerton Story.' But homosexuality was still not accepted in his time, so Reynolds, his footman, who is in love with Brimsley, another footman who works for Queen Charlotte, hides the fact that he is gay.
The King, on the other hand, loves Charlotte a lot. He tells Reynolds that when he first met Charlotte, he was attracted to her right away. He had never met someone as pretty, funny, and smart as she was.
George stays away from Charlotte at first, but he finally warms up to her, and he and the queen start a passionate love affair. In the future, Queen Charlotte will think back on the good times she had with her husband and think that the fact that they had fifteen children shows how much they loved each other.
The love between Charlotte and George helps George deal with his own problems and sets an example for the rest of society. This makes it easier for people of color to get the fair standing they deserve in society.
Also Read: Is Roman Gay in Succession? What Do the Writers Say About the Character's Sexuality?
What Secret Does George Keep From Charlotte?
Any doubts Charlotte has about how much her husband loves her are soon gone, and they grow to love each other deeply. When you consider that he fell in love with Charlotte the moment he saw her and was able to convince her not to run away, you might wonder why George was so mean to Charlotte after they got married.
Why did he leave her on their honeymoon when they were meant to be together? What was the secret he wasn't telling her? George stayed away from Charlotte because he was afraid he would get sick around her, which would make her leave him.
George's mental illness caused him to have breaks and bouts of mania that could last for days. At the time, there wasn't a good way to treat mental illnesses, and none of the methods that George had tried worked. When Dr. John Monro offered his help, the king's mother was willing to try anything to help her son.
George feels better after the wedding, but he knows it's only a short-term fix. He knows he can't tell Charlotte about his situation when he meets her. George thought that since she had tried to leave the wedding, she wouldn't mind if he kept his distance from her.
He comes to understand, though, that he can't always keep her in the dark. Also, it's better for him to stay with her than to leave. Spending time with her makes him happy and helps his health without him having to go through the cruel treatments he agreed to while in Dr. Monro's care.
George and Charlotte have a good time for a while, but when George finds out that Charlotte is pregnant, he gets worried, which sets off a manic episode. This is when Charlotte finds out the truth and understands why the king's mother went all the way to Germany to marry her son off to a much lower-class woman.
Must Read: What Happened To Reynolds In Bridgerton? Find Out What We Know So Far
As George thought, Charlotte leaves the house and thinks about going back to her home in Germany. But she is madder at George and his mother for lying to her than at him for having a mental illness.
In the end, she chooses to stay with George and help him stay healthy and run the country. By the end of the season, it's clear that George and Charlotte will fight together, even though they have a long task ahead of them.