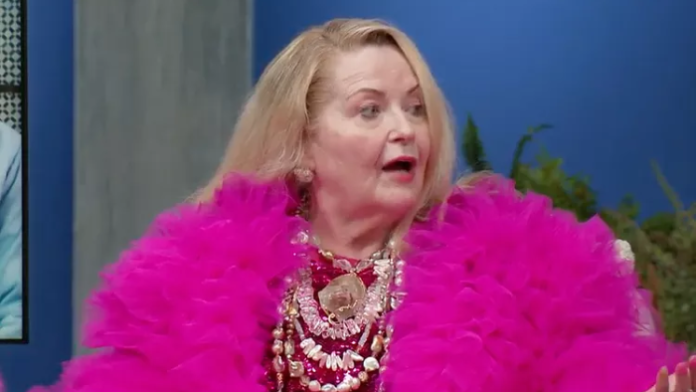 90 Day Fiancé: The Other Way stars Debbie and Oussama are not getting back together, and Sunday's tell-all made that very clear.
Debbie ran away to Morocco with a dozen bags to get as far away from her 43-year-younger ex as she could. Debbie thought she was going to Morocco for good a few weeks before the couple broke up.
But Oussama made it clear that he saw the relationship as a way to get a U.S. visa.
Debbie was still sad and confused at the meeting on Sunday, but she didn't back down. Even though Oussama tried to get in touch with her many times, Debbie still didn't give in to the man who said he no longer loved her.
As with every 90 Day gathering, the tell-all gives the couple's co-stars a chance to finally share their own thoughts.
Backstage, Gabriel Paboga was the first to ask about Debbie and Oussama's relationship, but Nicole Sherbiny was the most honest about the complicated love story of the American and Moroccan ex-lovers.
Also Read: Sam Asghari Shares Romantic Hiking Adventure with Britney Spears Amidst Marriage Speculations!
Nicole said, "I'm sure he love-bombed the crap out of her before she went to Morocco." "Then he changes everything all at once? But I've had that happen — believe me. She thought he liked her for who she is, but when she got there, everything had changed.
Gabe thought something totally different. "I'm a big fan of Oussama," he said. "I think he loves her so much, and I think Debbie loves him. I don't think he's using her to get a Visa at all, because he said he wants her to get married when she comes back the next time. I feel like he's sincere."
Later, on the tell-all stage, Gabe asked if it was possible that Debbie was using Oussama to get a green card to Morocco through Oussama. "She might be using him so she can stay in Morocco, but no one seems to notice," he said. But I think Oussama did something wrong. She could have given you the life you thought you could have in the U.S.
At the end of the Debbie and Oussama section, Debbie's overprotective police officer son, Julien, got into a fight with Oussama.
Must Read: Heartwarming News: Jamie Foxx's Daughter Confirms He's Been Hospital-Free for Weeks!
"I'm a cop. "I can smell bulls— from miles away," Julien told Oussama, who was there online but not in person.
"You're the biggest piece of bull I've ever seen in my life. You're lucky that my mom even spent a second with you. Get yourself fixed up at the dentist."
Julien said later, "Trying to take advantage of people who come here to get green cards. Stop taking advantage of older women who look like they are weak. Get a job!"
After a quick "OK, dog," Oussama confirmed that he wouldn't be looking for a job because of his true interest. "I will die for my dream," he swore.
Sunday nights at 8 p.m. ET,  90 Day Fiancé: The Other Way is shown on TLC.