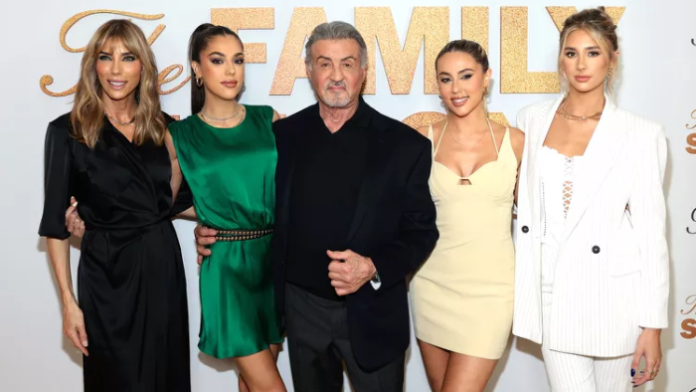 When your dad is Sylvester Stallone, going on a date can be a battle of wills.
In the first episode of the new Paramount+ documentary series The Family Stallone, Sophia, Sistine, and Scarlet Stallone talked about how hard it was to bring a boy home to meet her parents Sylvester and Jennifer Flavin Stallone.
Sophia, who is 26 years old, said that Sylvester "becomes full-on Rambo with guns" when their dates meet father.
Her younger sister, Sistine, who is 24 years old, agreed, "It's hard to date with the kind of dad we have."
"The first time a boy came over to meet my parents, he was going in for the first kiss, and I was so nervous but excited. He looked up at the balcony and said, "Oh my God. What is it?'" she remembered. "And that was my dad standing on the second-floor balcony in the dark, so you could only see his shadow."
She added, "He's so cinematic in the most unnecessary ways." "Let me tell you that this kid jumped in the car, went down the driveway —  I never saw him again."
Also Read: Matty Healy Finally Confirms Relationship with Taylor Swift and Shares Heartwarming Moment with Her Dad at Era Show!
Sistine said that it has been hard to find the right person because their father is Sylvester, who is 76.
"It's been tough for my sisters and me to even get together with someone. "Not only is 'Stallone' part of our last name, but my dad is also very protective and intimidating," she said.
She said, "But now that we're older and in relationships, you'd think he'd really want to make an effort to get to know the boyfriend." "Well, that hasn't happened quite yet. This person is very important to me, and I've never had a friendship as good as this one. Because of this, it hurts me that he hasn't put in much effort.
Must Read: Johnny Depp Moved to Tears as Audience Gives Standing Ovation at Cannes Film Festival Screening!
Sylvester told his children that he was helping them, even though they were worried. I'm throwing these creeps out."
Every Wednesday, new episodes of The Family Stallone come out on Paramount+.