Luke Grimes is well-known because he played rancher Kayce Dutton on the TV show Yellowstone. Luke has been successful on screen, but he has kept his personal life pretty quiet.
Since November 2018, he has been married to Brazilian model Bianca Rodrigues Grimes. The couple rarely posts about their lives on Instagram.
They spend most of the year in Montana because Yellowstone is filmed there. Bianca has shown on Instagram how much she loves living in "Big Sky Country" by posting photos of amazing sunsets and breathtaking views. In 2021, she captioned one post with "I love you, Montana."
The model also has a cute name for her husband, who is an actor. Most of Bianca's Instagram posts with Luke call him "Anjo," which is Portuguese for "Angel."
Here is everything you need to know about Bianca Rodrigues Grimes, Luke Grimes' wife.
Who is Bianca Rodrigues?
Bianca Rodrigues is a Brazilian model. Bianca lives in Montana while her husband films in Yellowstone, but she was born in Brazil.
Her Instagram Feed also includes a plethora of modeling pictures. Since at least 2016, she has posed in a lot of different places, like on the beach in a black bikini and in a studio that looks like it came straight out of the 1950s.
Also Read: Who Is Harp on Masked Singer? Why She Didn't Appear on Last Night Show?
She Walked The Red Carpet with Her Husband
Even though Luke and Bianca have kept their relationship out of the spotlight, for the most part, the model has been with her actor husband to some red-carpet events. Bianca was spotted with Luke at the 28th Annual Screen Actors Guild Awards in February 2022. Bianca wore a chic burgundy dress with peep-toe heels that showed her bare feet.
In March 2022, the pair were also seen on the red carpet at the Academy of Country Music Awards.
She Like The Music of Canadian Singer Colter Wall
Luke told Rolling Stone about his musical goals, including his plans to make an album, in an interview. The actor also talked about what kind of music he and his wife like and what they listen to at home. Colter Wall, a Canadian country singer, is a big favorite of Luke and Bianca, so the story goes. Luke said, "We have a record player in our house, and Colter's albums are right next to it."
In July 2021, Wall and Bianca took a picture together in Whitefish, Montana. She wrote, "Got the chance to meet one of my favorite musicians, and he also happens to be an amazing and down-to-earth guy!"
Also Read: Who is Andre Bing? Longtime Employee Responsible For The Walmart Shooting!
She and Luke Own Two Cats Together
Buck and Zelda are two Bengal cats that live with the Grimes family. Buck and Zelda have been on Instagram several times and even have their own account. In April 2020, Bianca took a picture of herself on the couch with one of her cats and wrote, "These are some of my favorite things…"
In May of 2021, Bianca posted a picture of their other cat looking out a window at home. In another picture, the Grimes cats explored a fruit bowl. "Yin and yang," Bianca wrote about Buck and Zelda's coats, which were different from each other.
She Owns An Airstream Trailer With Luke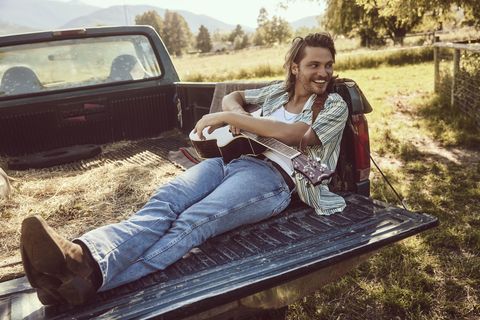 Luke and Bianca own an Airstream travel trailer, but they live in Montana while Luke is filming in Yellowstone. Bianca has posted a few pictures of the trailer on Instagram. The trailer lets the two of them travel around the country.
In July 2021, Bianca shared a picture she took from the bed of the trailer. She wrote, "My happy place." In another, the model wrote, "Sheltering all over the place" to show that the airstream had made it to Taos, New Mexico.
She Got Married To Luke in 2018
The couple reportedly got married on November 21, 2018, and Bianca has paid tribute to their anniversary on Instagram before.
In November 2021, Bianca and the Fifty Shades of Grey actor celebrated their wedding anniversary. Bianca wrote, along with a black-and-white picture of the couple on the beach, "I'm so glad you're in my life. Happy wedding anniversary! Te Amo."
The year before, Bianca posted another photo that seemed to be from her wedding. In the photo, the model was wearing a short white dress, and her husband was wearing a casual white shirt.
Also Read: Who Is Jack White? Jack White Has Left Twitter Following Elon Musk's Reinstatement of Donald Trump's Account.
In August 2019, She Shared Her First Picture of Luke
In August 2019, Bianca shared the first picture she had of the Yellowstone star. The couple looks like they are about to kiss in the photo, and the model wrote "✨❤️" as the caption.
Less than two weeks later, she sent Luke another picture of her and Luke in the desert where they were both wearing bandanas and goggles. "Burn Baby Burn🔥," she wrote as the post's caption.